Grief Support Group
Grief Support Group
Thursday, March 29, 2018 View Next Date
6:30PM - 8:30PM
Sunrise Community Church 3303-37 Street NW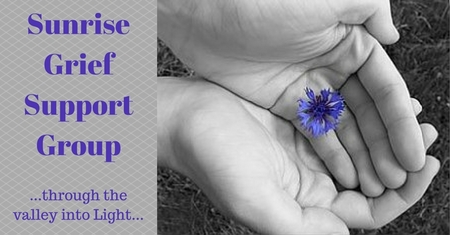 Date: Thursdays, March 22, 2018 - May 10, 2018

Time: 6:30-8:30pm
Location: Sunrise Community Church (3303-37 Street, Edmonton)
Facilitators: Janelda Cornfield, Parish Nurse; Dora Lee, Bereavement Peer Support
Registration: For more information or to register, please contact:
Phone: 780-463-2699
Email: [email protected]
Cost: $20.00 per person (payable by cheque or cash at first session)
Limit: Minimum of 3 participants to a maximum of 8
Purpose: This is an 8 week, closed group focusing on various losses due to death. Adults who have experienced the death of a family member or friend are invited to join. The purpose of this group is to provide support, enabling participants to tell their stories in a safe, trusting environment, to provide practical education on coping, using experiential activities and to provide handouts and resources on grief. The group will be run from a a faith-based, Christian perspective.
Model: Week 1-3: Exploration of my loss/Nature of my relationship to the deceased
Week 4-5: Where am I now in my healing:
Week 6-7: My vision for the future
Week 8: Closing/Celebration
STATEMENT OF OVERALL IMPRESSION:
So grateful to Janelda and Dora for their devotion, time and genuine compassion in offering the Sunrise grief support group. Over the past 8 weeks they have walked me through and helped me to understand the grieving process, by offering a very safe and comforting setting with beneficial healing activities.
Thank you
Grief Support Group Member, November, 2016
I appreciated this group so much. It has been 14 years since I lost my mom and in this group I was safe to talk about it, cry about it and share my heart, it didn't matter how long its been. I looked forward to the group each week, it was so good to have a safe place to come to where I could honestly face my grief. Janelda and Dora are wonderful, I would recommend this support group to anyone who has experienced loss.
Grief Support Group Member, April, 2017
I enjoyed the experience in the group. It was helpful and comforting to hear others experiences of loss and to share my own. I was comforted by listening to others share their ideas of loss of various family members. As human beings we can nurture each other in this healing circle, allowing us to fell supported and strengthened in this journey toward healing.
Grief Support Group Member, November 2017
I enjoyed the use of art and music to understand what we need to share. This helps us move through our grief and even our anger. It helped me to understand and work through that these other people and that help and support is out there. Sometimes we have to ask for help.
Grief Support Group Member, November 2017
Ministry Parish Nursing Ministries
Return to Events
---